Project Kenya - Campus Saint-Jean U of A
Welcome to Alex Schoeddert's Personal Fundraising Page!
I truly believe that through the power of education, one can change the world.
I am always trying to learn new things, but also to find people to share my knowledge and experiences with. "Projet Kenya" is a unique opportunity to discover and learn along-side teachers and students in Kenya. However, this project is about more than just learning: it is about the future. Building schools cements the foundations of the future. Ensuring access to education, gives the next generation the chance to learn, discover and create.
Please join us as we change the world, one classroom at a time.
We are a group of passionate university students who strive to build global relationships through service projects to underprivileged countries around the world. We are part of the seventh group of students from Campus Saint-Jean (University of Alberta) who will travel to Kenya in May of 2015 to experience the power of service learning as future teachers and professionals.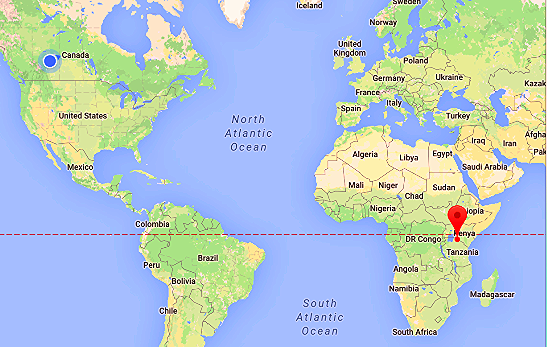 The Kenya project focuses on three pillars:
education, leadership and social justice
.
This will be an opportunity of a lifetime to see the world with new eyes. As we prepare to become teachers and leaders, we are conscious of the privilege but also of the responsibility of our chosen professions. We hear stories about the conditions of developing countries, but what a privilege it will be to see the realities of cultural differences.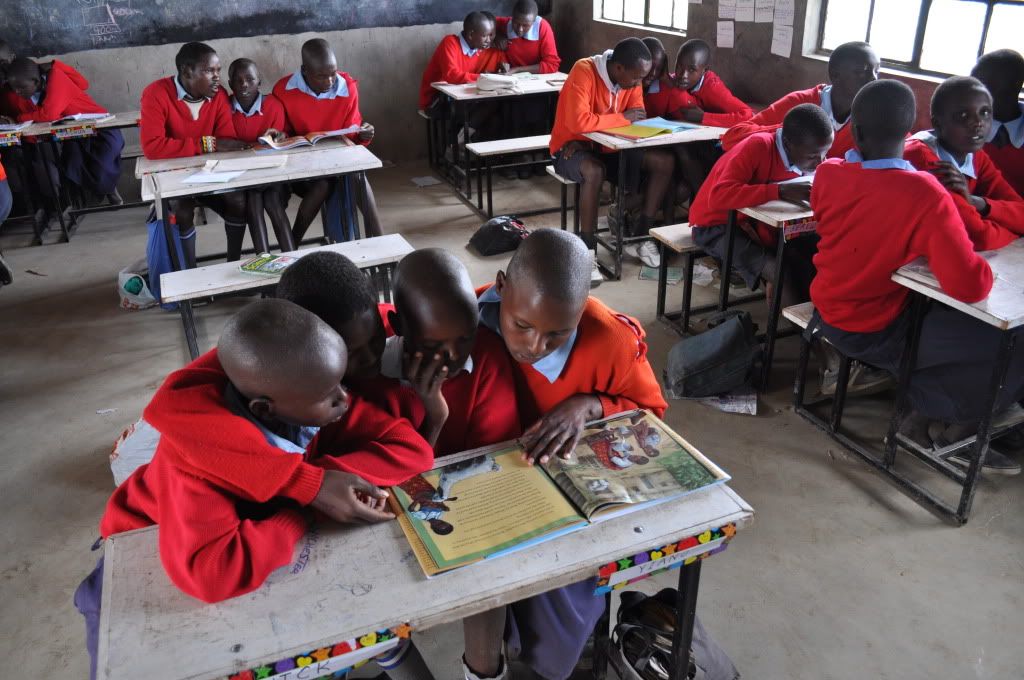 Although the student teaching practicum is central to the "Projet Kenya" experience, leadership and volunteering activities are built into this international project. Reciprocity, solidarity and sustainability are three fundamental principles in our journey. Free the Children/Me to We, our partner organization, believes in a hand up - not a handout! Twelve wheelbarrows of sand, twelve wheelbarrows of rocks, two bags of cement, water, shovels, muscle power, blisters and a lot of good will - such is the formula that makes a difference in the lives of Kenyan children. Although very challenging physically, such an experience brings an unprecedented sense of joy in the lives of young adults who witness for themselves the power of experience.



According to previous participants, t
he best part about being in the Massai Mara is feeling the pulse of the region. It is quite something to connect with this daily rhythm - mamas beading under the acacia trees in serenity, young students who attend school each morning with a spring in their step and smiles on their faces; the way the community comes to life with each rising sun. Young Massai students leave a lasting impression on all who have the privilege to meet them.



The alumni of "Projet Kenya" is exemplary in walking their talk. Their commitment to making a difference in our world doesn't end when they come home. These students, many of whom are now teachers, choose to impact others locally and internationally. Some are now teaching and working in developing countries. Other alumni members continue to impact the lives of their students in local Canadian classrooms. They are proud to live by the Me to We motto: "Think globally, act locally." They are now preaching what they practiced in Kenya.

The participants of "Projet Kenya" will have earned much more than a degree upon completion of their university program. They will leave Campus Saint-Jean with a life-transforming experience that will forever influence the way they teach and the way they approach their professional lives.

We are so looking forward to becoming a part of that Alumni!
A Small Thought / Un petit mot
Published on Wednesday, Jan. 28, 2015 at 03:42 PM (MDT)
Wow! Yesterday we were able to reach 30% of our goal thanks to your donations! Merci beaucoup! With this in mind, I thought I would share one of my reasons for going on this trip.

Last week, Lucille and I were talking about her past experiences in Kenya and one of her comments really struck a nerve. One of her close friends had told her she was very happy with her life in Kenya, all but for one thing: that her childhood had been taken away from her. The region in which we are going to, the Massai Mara, has a very high percentage of women that get married under the age of 15. This is what happened to her and as a consequence, was forced to grow up at a very young age.

This story is the complete opposite of my own life. I am now in my 19th year of schooling and my childhood would have been very different without it. It is the memories that I have of elementary school that make up much of my childhood. I don't wish anyone to be denied such a significant part of growing up. This is one of my reasons for going to Kenya: to witness what it is like to be a young girl in a place where education is often out of reach. I want to be able to make my contribution to girls' education and to understand and form my own opinions about a culture of learning that is different from my own. I am excited to see what I come up with once I am there!



Wow! Hier, on a atteint 30% de notre but monétaire ! Merci à tout le monde pour leurs contributions ! Avec ceci en tête, voici une de mes raisons pour aller au Kenya cet été.

La semaine dernière, Lucille et moi parlions de ses expériences précédentes au Kenya. Elle m'a raconté l'histoire d'une de ses amies, une histoire qui m'a beaucoup marqué. Cette femme lui disait qu'elle a beaucoup aimé vivre au Kenya, sauf pour une chose : qu'elle n'a jamais eu une vraie enfance. Ceci est à cause du fait qu'elle s'est faite marié à un très jeune âge. La région dans laquelle on y a va Kenya, le Massai Mara, est un endroit où le pourcentage de jeunes filles mariées avant l'âge de 15 ans et très élevé.

Cette histoire ne pourrait pas être plus différente que la mienne. Ça fait maintenant 19 ans que je suis à l'école, et sans ces années, mon enfance serait complètement différente. Ce sont mes expériences au primaire qui compose une grande majorité de mes souvenirs d'enfance. Je ne peux pas imaginer ne pas avoir été à l'école et je ne souhaite à aucune fille ces expériences manquées. Voici une de mes raisons pour aller au Kenya : pour comprendre la vie d'une fille qui n'a souvent pas la chance d'aller à l'école à cause de nouvelles responsabilités. Je veux aussi être capable de contribuer à l'éducation des filles et de créer mes propres opinions d'une culture où l'éducation est valorisée différemment qu'au Canada. J'ai hâte à apprendre davantage lorsque je suis au Kenya !!
---
Connie Hainstock
Gave $25.00
Brittany Delwel
Gave $25.00
Natalie Painchaud
Gave $20.00
Charlene Farrell
Gave $50.00
Gabrielle Gascon
Gave $75.00
Helene FLAMAND
Gave $25.00
Penny McCune
Gave $100.00
Fernande Bergeron
Gave $100.00
Chris MacPherson
Gave $50.00
Kathleen Charlesworth
Gave $20.00
Nicole Bugeaud
Gave $100.00
Catherine Sim
Gave $100.00
Carole Forbes
Gave $100.00
Kenneth Shields
Gave $100.00
Maria Sandoval
Gave $20.00
Emile Mandin
Gave $100.00
Emile Mandin
Gave $100.00
Loretta Fourie
Gave $100.00
Kevin & Melanie Zerr
Gave $50.00
Irene Wilson
Gave $100.00
Niane Abdoul Demba
Gave $100.00
GRANT MCPHEE
Gave $1,000.00
Camilla Lavoie
Gave $50.00
Roxanne Price
Gave $50.00
Dalbir Sehmby
Gave $150.00
Ian Schoeddert
Gave $100.00
FRank & Rosemary McMahon
Gave $100.00
Tacey Lawrence
Gave $100.00
Rene Lachance
Gave $100.00
Sheryl Pearson
Gave $75.00
Martine Cavanagh
Gave $100.00
Jacqueline Coulas
Gave $50.00
Laurier Fagnan
Gave $100.00
Simone Desilets
Gave $25.00
Lorraine Grant
Gave $100.00
Alistair Morgan
Gave $10.00
Danielle Arrand
Gave $50.00
Anne-Marie Hogue
Gave $100.00
Glenn Forbes
Gave $100.00
Molly Blakowski
Gave $15.00
Sheila Graham
Gave $25.00
Charles Nokes
Gave $10.00
Patrick Carlson
Gave $200.00
14 supporters have chosen not to be listed for "Project Kenya - Campus Saint-Jean U of A".
Make an Impact
This gift will help us set foot in the direction of making a change. Join our team of contributors!
This gift will provide children in Kenya with soccer balls and other recreational equipment.
This gift will provide resources for classrooms in Kenya such as paper, pencils and markers.
Health and Security
Give $50
This gift will support the cost of Flying Doctor's insurance for one Campus Saint-Jean (UofA) student, to ensure all participants will be assisted in case of illness.
One Day in Kenya
Give $75
This gift covers the cost of a day in Kenya for one person including meals and lodging.
In-Country Transportation
Give $100
This gift will support the salary of Kenyan drivers as well as the maintenance of vehicles. The cohort of students travel 4 - 5 hours from Nairobi to get to the Massai Mara.
The Perfect Hosts
Give $300
This gift will pay the salaries of the Support Staff at camp who work hard to provide meals, security and maintenance.
A Legacy for Future Generations
Give $500
This gift will help cover the cost of materials such as concrete, sand and gravel, needed to build a classroom which will provide education for 30-52 students.
This gift will help cover the cost of one Campus Saint-Jean (UofA) student's flight.